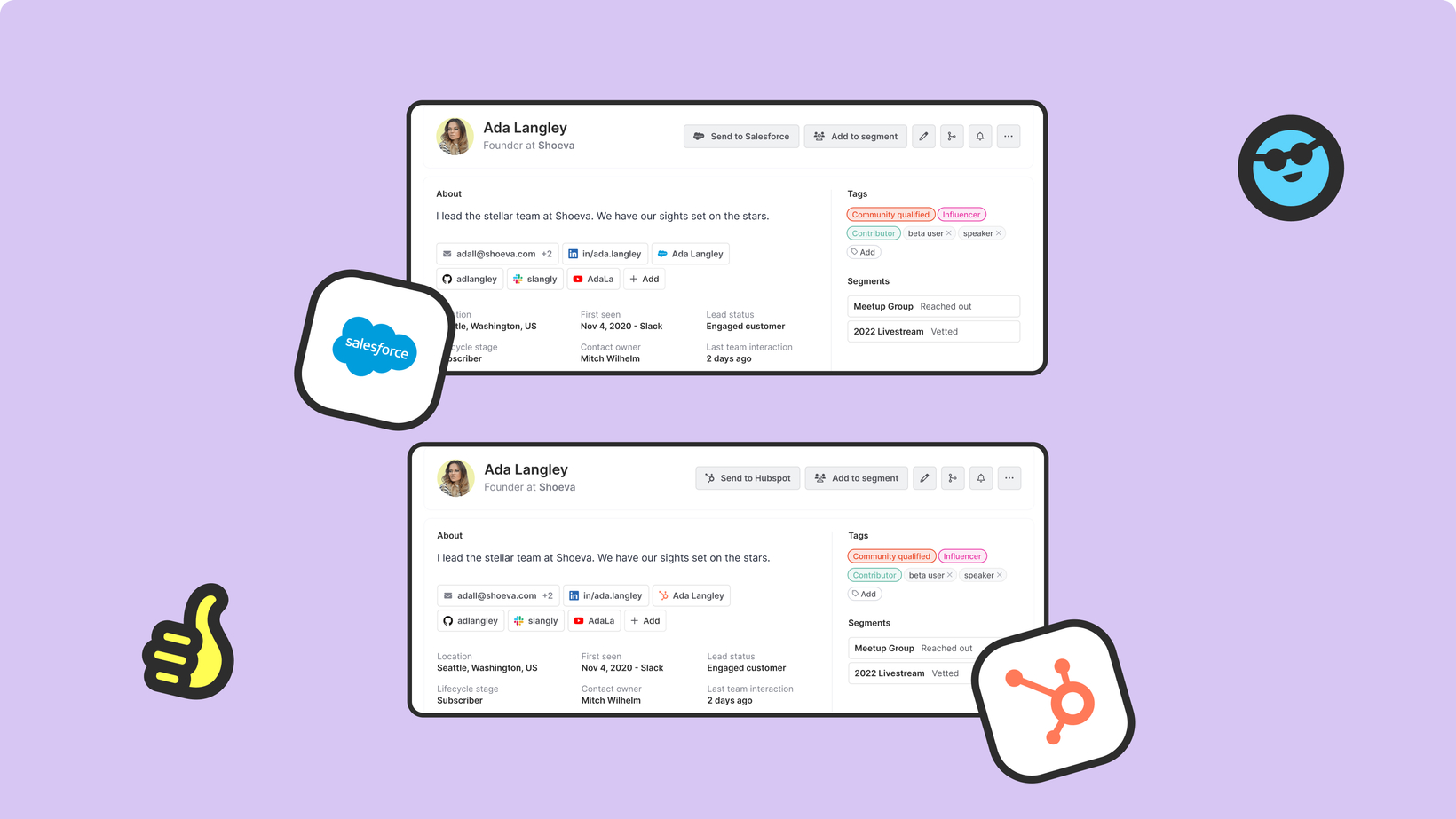 DATE:

AUTHOR:

The Common Room team
Salesforce & HubSpot Integrations
DATE:
AUTHOR: The Common Room team
Why did we build it? What customer use cases are we trying to solve?
Today, users are increasingly adopting software before they buy. How they decide on the software they adopt and buy relies less on marketing and more on community influence. Community is at the forefront of how companies–especially product-led and open-source companies engage with their customers and grow their business.
Community is where decisions are made and CRMs contain the outcomes of those decisions.
Common Room's Salesforce & HubSpot integrations combine community, business, and product data to:
Provide community practitioners with business context so they can make more informed decisions that improve business outcomes.

Provide Go-To-Market teams with community context so they can deliver better business outcomes.

Demonstrate the business impact of the community.
How does it work? Where is it in the product?
Companies can now integrate their Salesforce & HubSpot data into Common Room. Specifically, we integrate with HubSpot contact, company, and deal data and Salesforce lead, contact, account, and opportunity data. This business context is surfaced to Common Room users via filters throughout the application and member/org profiles.
And community data from Common Room is surfaced to Salesforce & HubSpot in the form of:
Community data surfaced within a widget so sales reps can have context about what their leads/accounts are doing in the community.

Community data is stored in fields so sales ops can directly incorporate it into automated flows for existing contacts/leads (e.g. lead scoring, workflows, reporting).

New lead/contact creation for community-qualified leads discovered via Common Room + first seen in the community.
Using this data we've been able to build comprehensive Business Impact Reports for our Enterprise customers that clearly illustrate the business value generated by community efforts.
Links to documentation:
Salesforce CRM Integration Docs